Emergency care improved says Health Minister Jim Wells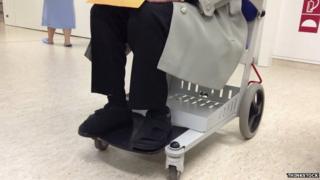 Considerable improvements have been made in the transfer of information between nursing homes and emergency departments, the health minister has said.
Jim Wells was updating the assembly on a range of actions to improve the delivery of unscheduled care.
A review published in July said hospitals must do better.
Mr Wells said progress had been made in a number of areas, including the care of frail older people.
Task group
The report by the Regulation and Quality Improvement Authority (RQIA), Northern Ireland's independent health regulator, made 17 recommendations.
Mr Wells said a task group that was set up to address these recommendations had taken a number of actions to improve delivery of unscheduled care:
The establishment of a regional unscheduled care escalation plan
The development of standards to reduce the numbers of internal hospital moves and restrict late-night hospital discharges
The expansion of direct access to the Belfast City Hospital for people with respiratory illness
The establishment of a "patient flow work stream to drive forward improvements"
The maximising of alternative ways to access hospital services outside the traditional emergency department route
"Work includes the development of a regional model for unscheduled care that identifies alternatives to emergency department attendances, particularly for older people and those requiring urgent assessment," he said.
"An audit tool is also being developed to identify any delays in the patient's journey to help trusts identify gaps and take corrective action, along with a regional approach to multidisciplinary assessment to ensure a safe discharge process and minimise bureaucracy.
"Implementation of regional standards for triage nursing practice and Emergency Nurse Practitioners to support nurses to develop their skills and improve consistency of approach throughout Northern Ireland will also help ensure patients receive the care they need."
Mr Wells said implementing the RQIA's recommendations will mean "the whole system will have to work together, including our GPs, ambulance service, community care teams and staff in acute hospitals".
Waiting time target
Mr Wells said emergency departments had performed well overall in meeting the 12-hour waiting time target.
"During the last year the health and social care sector achieved a 44% reduction in the number of patients waiting longer than 12-hours and I am pleased to report that in the first six months of 2014/15 this progress has continued with the lowest number of 12-hour waits in five years," he said.
However, he said the Belfast Trust had not met this target.
"While I recognise that some progress has been made, the trust in recent months has continued to experience, unlike most other trusts, high levels of patients waiting more than 12 hours," he said.
Referring to a separate inspection report by the RQIA on the Belfast Trust he said; "I would expect to see and require significant improvement when I receive the follow-up unannounced inspection report by the RQIA later this year."
Mr Wells said he had allocated £5m to help deal with additional pressures during winter.
"To date some £2.3m of this funding has been allocated to trusts, including the ambulance service, to fully fund or contribute to the costs of a range of measures to improve unscheduled care and patient flow," he said.