Grosvenor Road: 'Major security operation' near Belfast City Centre ends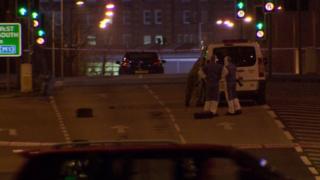 A security operation which caused part of a road near Belfast City Centre to be closed overnight is now over.
The Grosvenor Road between Cullingtree Road and Barrack Street was cordoned off. The security operation began shortly after 22:00 GMT on Thursday.
Army bomb experts and police officers examined a white people carrier.
The vehicle, which had a taxi sign, was parked in the middle of the road not far from Grosvenor Road Police station.
There are no further details available but sources described the incident as "a major security operation".