Cushendall marks anniversary of SS Gem sinking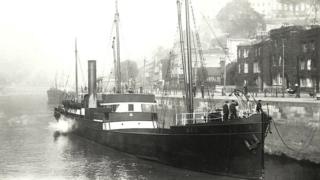 People in a County Antrim village have been marking the upcoming anniversary of the death of six sailors from the Glens on Christmas Day, 1914.
Ten people died when the SS Gem, a cargo boat with a crew of 12, hit a German mine off the Yorkshire coast.
Three were from Cushendall and three others came from the villages of Carnlough and Glenarm.
On Sunday night, people from Cushendall gathered to see a play about the tragedy by local playwright Joe Burns.
Two of the children taking part in the play are relatives of those who perished.
Also attending was Ann McLoughlin, whose great great grandfather James McKeegan, from Cushendall, was the captain of the ship.
The ship was passing Scarborough when it struck the mine.
Two weeks earlier on 16 December, the German navy attacked Scarborough and dropped mines before withdrawing.
In the days that followed, 11 boats were destroyed, including the Gem.
There was a surprise for the audience of the play after the show.
Thirty-four years ago the Scarborough Diving Club found the ship's binnacle - a metal cylinder about three feet tall and a foot in diameter that housed the ship's compass - on the seabed.
Coming up to the centenary of the tragedy, they decided to give it to the people in the Glens.
The binnacle was unveiled on Sunday night after the play to the surprise and delight of the audience.
Its new home will be the Red Bay Lifeboat station in Cushendall, where seven current crew members are direct descendents of the men who died on the Gem.