Arts Council NI: Executive asked to safeguard funding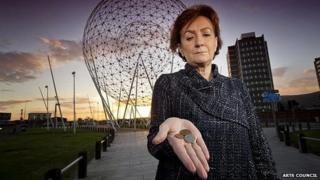 Further reductions in the Arts Council's funding will have a devastating impact on arts provision in Northern Ireland, the body has said.
Chief executive Roisin McDonough said reducing an already fragile budget would have a devastating impact.
She has called on the executive not to implement more cuts to the arts sector.
The Arts Council has been asked by the Department of Culture, Arts and Leisure to plan for an 11.2% cut in the next financial year.
Ms McDonough said the council had launched a postcard petition and was asking the public to support the call for an end to the cuts.
'Big returns'
She said the Northern Ireland government "currently invested just 13p per head of population per week in direct funding for the arts".
"The money received by the Arts Council is used to support a diverse range of arts activities from festivals and venues, to performances and community-based projects," Ms McDonough said.
She said the council received £12.3m in government funding, which represented just 0.1% of the NI Executive budget.
"The arts receive a tiny amount of government funding but deliver big returns for our economy and for our society," she said.
"For an investment of just 13p, just look at we get back - events, performances, exhibitions, concerts, workshops - all of which contribute to improving our society, drive economic growth and jobs creation, and raise Northern Ireland's global profile as a place people want to live in and visit.
"We have already shouldered six consecutive cuts in the last three years. Another cut would have a devastating effect on the sector, bringing us back to the level we were at in 2005, and reduce arts provision for everyone."
James Nesbitt said he was one of many local actors who had relied on subsidised theatre companies to kickstart their careers.
"Theatres, along with the likes of the Ulster Orchestra for example, are the cultural heartbeats of our towns and cities and without them we are much poorer for it," he said.
"To the best of my knowledge, it doesn't take a lot of money and I would appeal to Stormont not to cut any more."