Dalriada Hospital: Public consultation on planned closure of respite unit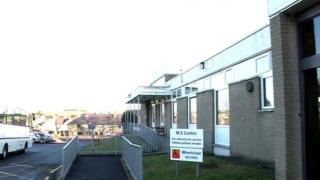 The Department of Health is to hold a public consultation over the potential closure of the multiple sclerosis respite unit at Dalriada Hospital in Ballycastle, County Antrim.
It was proposed the unit would close at the end of November until March next year, as part of health service cuts.
It is Northern Ireland's only dedicated MS respite unit.
The health minister Jim Wells has said the consultation will last eight weeks instead of the usual 12.
Earlier this month, up to 1,000 people gathered in Ballycastle to protest at the proposed closure.
Last week, Mr Wells told MLAs the temporary closure of the unit would save more than £500,000.
He said he had heard criticism, but had yet to hear alternative proposals on how money can be saved.
Mr Wells told the assembly that only 69 of Northern Ireland's 4,000 MS sufferers use the facility.