Michelle Gildernew in personal attack on Gregory Campbell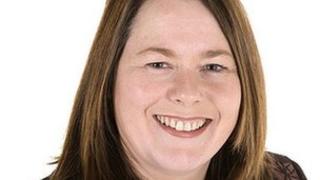 A Sinn Féin MP made a personal attack on DUP MP Gregory Campbell at the same meeting at which Gerry Adams' comments caused controversy earlier this week.
According to the Impartial Reporter, Michelle Gildernew told the meeting in County Fermanagh on Monday: "All Gregory has to do is to be a bollocks."
She said Sinn Féin had to "keep moving these people [the DUP] out of the territory where they are comfortable".
"Gregory would be comfortable in the six county state forever," she added.
Mr Campbell had told the DUP party conference on Saturday that his party would treat Sinn Féin's "entire wish list" at inter-party talks as no more than toilet paper.
Sinn Féin said that the comments by the MP for Londonderry East had challenged the integrity of current talks.
Mr Adams was criticised by unionists for using offensive language at the same meeting. as Ms Gildernew, MP for Fermanagh and South Tyrone.
The Sinn Féin president later apologised, he maintained that he was talking only about bigots and racists.
Both the DUP and the Ulster Unionists made it clear they believed Mr Adams was insulting all unionists.
The recordings from the meeting have been reported by Impartial Reporter journalist Rodney Edwards.
NI Political Editor Mark Devenport said: "There is no ambiguity, she (Ms Gildernew) is talking about the DUP MP for Londonderry, she obviously has taken exception to his attempt to parody the Irish language."
He said that at this stage, Sinn Féin was arguing that at least they had apologised but Gregory Campbell had not apologised.