Jean McConville: Bobby Storey released after arrest in connection with overall murder investigation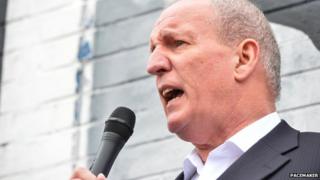 The well-known republican Bobby Storey who was arrested as part of the overall investigation into the abduction and murder of Jean McConville in 1972, has been released.
A report is to be sent to the Public Prosecution Service (PPS).
Mr Storey is the Northern Chair of Sinn Féin.
Mrs McConville, 37 a widow and mother of 10, was abducted in December 1972 from her flat in the Divis area of west Belfast and shot by the IRA.
Her body was recovered from a beach in County Louth in 2003.