Nicola Sturgeon supports corporation tax power for Northern Ireland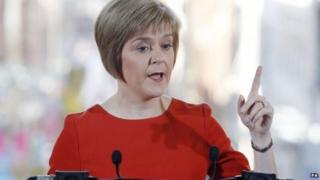 The Scottish First Minister Nicola Sturgeon has said she hopes Northern Ireland gets the power to set its own rate of corporation tax.
Chancellor George Osborne is expected to make the government's attitude to the corporation tax issue clear in a budget statement due on Wednesday.
The SNP has called for Scotland to have control over its own business taxes.
This power was not in a package agreed by a commission on Scottish devolution.