Northern Ireland students urged to fight cuts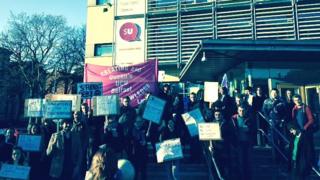 Students in Northern Ireland have been urged to fight proposed cuts in spending by the Department of Employment and Learning.
Queens University student president Ciarán Gallagher made the call at a rally of students and academic staff.
He warned them that a reduction in funding is likely to lead to fewer places for undergraduates.
Last month, Northern Ireland's universities warned that they would have to cut 1,100 student places.
The Department for Employment and Learning (DEL) was told it would lose almost £81m in October's executive draft budget.
Ellie Drake, the women's officer for the NUS/USI student body, told a small crowd: "If there are fewer places, university will be less accessible.
"There will be fewer courses offered and whole academic schools could close. We have to fight against that and against an increase in tuition fees."
"The student leaders appealed for people to sign their anti-cuts petition and to write to their MLAs."