Dalriada hospital to remain open following court decision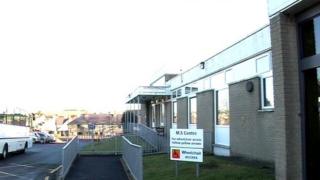 Dalriada Hospital, in Ballycastle, County Antrim, has won a temporary reprieve after a judge ruled it must continue to accept new patients.
This follows a decision by the Northern Health Trust to close the hospital, which also has a multiple sclerosis respite unit.
Mr Justice Treacy said injustice was likely to follow if the hospital was to close before proper consultation.
The hospital had been due to close for six months as a result of budget cuts.
The move follows a judicial review taken by an MS patient who is campaigning against the proposed closure.
Campaigners say they are "elated" at the decision.
Dalriada is a small community-based hospital in County Antrim and it is also home to Northern Ireland's only respite unit for patients with MS.
Overturned
In October, as part of the cuts to the health service, the Northern Health trust announced the MS unit would temporarily close.
Health Minister Jim Wells later said that the hospital would not admit new patients.
In the High Court on Thursday, Mr Justice Treacy overturned this decision and ordered that new patients must be admitted.
While this is a temporary move, the judge said the balance of justice comes down in favour of granting interim relief until a judicial review case, which has been brought by a patient, is heard in full.
While five members of staff have already been redeployed, the court instructed the Northern Trust to immediately halt any further action.
Campaigners said the non-admission policy was a means to bring about the closure of the unit.
A department spokesperson said: "The primary obligation is for the Northern Trust to comply with today's court ruling.
"The trust will need to urgently review what actions are available to them to achieve the £6.9m savings required to break even by the end of the financial year."