Scuffles break out in Finbar McGrillen and Caron Smyth murders hearing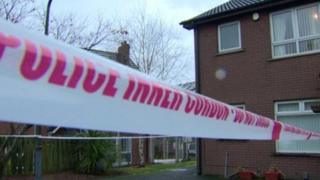 There were disturbances in the public gallery of Belfast Crown Court on Friday as two men appeared in the dock charged with a double murder
The bodies of Finbar McGrillen, 42, and Caron Smyth, 40, were found in a flat at Ravenhill Court in east Belfast on 13 December 2013.
Shaun Patrick Joseph Hegarty, 34 and Ciaran Nugent, 33, are accused of the murder.
A number of women were removed from the court on Friday as trouble flared.
It began even before the two accused appeared in the dock, and resulted in a punch being thrown
The court heard that a trial is due to last up to four weeks and has been earmarked to take place next May. The case is due to be reviewed again at the end of January.
As Mr Hegarty, formerly of Grainne House in the New Lodge area of north Belfast, and Mr Nugent from the Falls Road, in west Belfast, were being led from the dock two groups of women in the public gallery became embroiled in a verbal altercation.
One woman was overheard saying to another female "what goes around comes around, remember that".