Van crashes after Belfast M2 wrong-way drive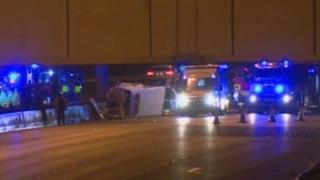 A van has collided head-on with another vehicle after being driven the wrong way down the M2 motorway in Belfast.
Both drivers were treated for serious injuries that are not thought to be life-threatening, following the crash at about 22:15 GMT on Friday.
About 45 minutes earlier, the white van had failed to stop for police in the Saintfield Road area of south Belfast.
At about 22:00 GMT, police received a report that a van collided with four cars on Cregagh Road but drove on.
Abandoned chase
Police said they received further reports at about 22:15 GMT of a van travelling in the wrong direction on the M2 heading out of Belfast. It then collided head-on with an oncoming vehicle.
The drivers were both cut free from the vehicles by firefighters.
Police said that officers had pursued the van for a short distance after it failed to stop on the Saintfield Road, but abandoned the chase "for reasons of public safety".
The Police Ombudsman has been informed.
Insp Rosie Leech said: "I would appeal to anyone who saw a white Ford Transit van driving erratically in the Knock, Cregagh and Saintfield Road areas of east Belfast yesterday evening between 21:30 and 22:15 GMT, and anyone who was travelling on the M2 close to the M5 junction and witnessed the accident, to contact police on the non-emergency number 101."