Ballymena addiction centre: David Ford to meet trust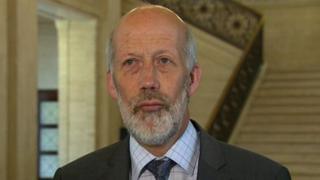 The justice minister is to meet the Northern Health Trust to discuss the future of the Railway Street addiction centre in Ballymena.
Last month David Ford announced that funding would be withdrawn for the drugs misuse centre at the end of January.
The service has been described as a model of best practice in helping injecting drug users.
The drugs misuse service was partly paid for by the Department of Justice.
"What we're going to have to do when we meet today is to see what the options are, whether there are potential ways of managing the service," Mr Ford said.
"But the reality is that the DoJ is faced with colossal budget cuts and this is not the only worthwhile, positive, preventative programme which is going to see reductions in the year ahead of us - that's the blunt reality of where we are.
"What we have to do is see whether it's possible to manage smarter with less."
A former heroin addict who used the centre said she hoped the minister would change his mind.
"I do see us coming through and getting our funding back, I really do," Charlene said.
"And I just really hope that David Ford can do that for us.
"I know he's in a very difficult situation with money, I know all the MLAs and ministers are in that difficulty, but I don't think the addiction clinic is where you should cut the money."