Taggart Group 'should have known about bank discussions'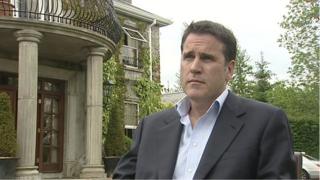 A former property developer should have been briefed on internal bank discussions about his now collapsed company, he has told the High Court.
Michael Taggart said he was entitled to know details of contact between credit control and relationship management.
"I think if there were messages that were detrimental to our business... and discussed between them, we should have got them," he said.
"It was the very least we should have expected."
Once listed among Ireland's richest men, and the winner of an entrepreneur of the year award in 2007, his house-building empire was decimated in that year's property crash.
By 2008 the Taggart Group, which had operations on both sides of the Irish border as well as in Great Britain and the US, had gone into administration.
Together with his brother John, Mr Taggart has taken a multi-million pound legal action against the Ulster Bank.
Understanding
They say they were kept in the dark about credit concerns within the bank.
Had they been warned, the brothers contend, assets could have been sold to off-set loans.
In a counterclaim, the bank is seeking £5m and 4.3m euros (£3.4m) it says the Taggarts owe in personal guarantees over land purchases in Kinsealy, County Dublin, and in Northern Ireland.
As Michael Taggart continued giving evidence for an 11th day at the High Court in Belfast, he was questioned about a report prepared in June 2006.
According to counsel for Ulster Bank, the document contained an understanding that £3m from a proposed sale of the Taggart's Frazer Estates asset would go towards a joint, or 'club', bank facility.
But Mr Taggart took issue with the projections, saying he did not understand them.
Pressed on the contents of the report, he said: "That's what it says in the document, but there are other inaccuracies and I think that may be an inaccuracy.
"But I may stand to be corrected."
'Comfortable with numbers'
Mr Taggart was asked if he was more comfortable with words than figures.
"As head of this multi-million [pound] business, with businesses in different jurisdictions, you would have to deal with messages in words as well as messages in numbers," the barrister for Ulster Bank said.
"If a director has difficulty following numbers and projections and cash flows it's going to be a hindrance to him or her running their business."
But Mr Taggart responded that he was "very comfortable" with numbers.
"I know what I know and, more importantly, I know what I don't know. What I don't know, I ask for assistance," he told the court.
Referring to his grasp on the company's performance, he added: "I was very much responsible in growing it to the size it was."
The case continues.