NI talks: What is the Reinvestment and Reform Initiative?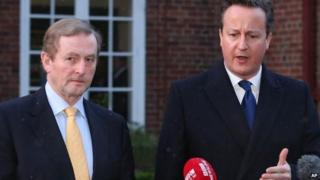 As Prime Minister David Cameron left Northern Ireland and the cross-party talks, he said he would put up "almost £1bn of spending power for the coming years".
That would depend on agreement being reached in the negotiations that focus on welfare reform, parades, flags and the legacy of the past.
Mr Cameron's offer of £1bn "financial firepower" has been dismissed as "derisory" and "not new money" by some Northern Ireland politicians.
It is understood that £700m of the money would involve reallocating money from the Reinvestment and Reform Initiative or RRI.
The RRI is essentially a borrowing facility that was set up in 2002 to support the Northern Ireland Executive's infrastructure investment programme.
It allows the executive to borrow up to £200m a year over and above the public expenditure controls determined by the Barnett formula, used to set spending in Northern Ireland as well as Scotland and Wales.
The ceiling for this borrowing is £3bn and the loans are generally repaid over a period of 25 years.
Very low rates
The interest rates applied on the principal sums are at standard rates set by the Treasury.
These rates are very low, given the UK government can currently borrow at very low rates.
RRI cash borrowing to date is around £2bn, with the 2012-13 annual cost of repayments being in excess of £100m.
The estimated costs of RRI repayments continue to increase and will peak at just over £140m a year from 2016 to 2022.
Although the RRI was only supposed to be for infrastructure spending, this has not been strictly adhered to.
In the 2010-11 financial year, £36.9m was borrowed over a 25-year term to assist with the payment of liabilities arising from equal pay awards.
The secretary of state and the Treasury both deemed the expenditure was capital in nature, but the Northern Ireland Audit Office disagreed, saying the move overrode "the original spirit of the RRI".
The RRI was also used indirectly to bail out the failed Presbyterian Mutual Society.
So it appears the prime minister was suggesting that he would give permission for the rules to be bent again, this time to pay for a major redundancy scheme across the public sector.