NI Water: Unions vote for industrial action over pensions dispute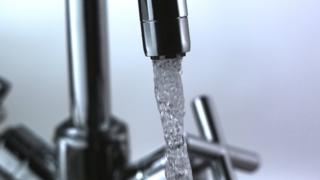 Hundreds of Northern Ireland Water staff are set to take industrial action over a pensions dispute.
Members of Nipsa, Unite and the GMB voted for a work-to-rule and withdrawal of on-call services and overtime, beginning on 22 December.
The unions said it was "likely to lead to significant disruption as repairs, including bursts, are delayed".
NI Water said the "provision of safe, clean drinking water and wastewater services remains an priority".
It said it would "continue to work to mitigate any potential impact on customers".
The unions said the planned industrial action was being taken "in protest at attempts by the government-owned company to scrap the current pension scheme".
'Angry'
Nipsa assistant secretary Ryan McKinney said staff were reluctant to take action but they were "saying enough is enough".
"Over the past few years, NI Water staff accepted below-inflation pay settlements, and more than 900 workers left under cost-cutting and restructuring exercises," he said.
"However, the pension scheme remains healthy, it is affordable, and staff are rightly angry that they are expected to pay more to get less."
The unions said they would hold talks with Regional Development Minister Danny Kennedy on Wednesday in an attempt to avoid a dispute.
In a statement, NI Water said it "regrets such action has been called at this time".
"NI Water remains committed to trying to resolve the issues at hand and continues to offer ongoing engagement with trade union colleagues," a spokesman said.