Arlene Foster seeks Belfast Metropolitan Area Plan suspension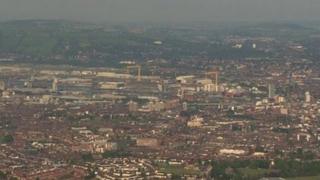 Enterprise Minister Arlene Foster is to seek the suspension of a Greater Belfast planning blueprint as part of her legal challenge to its approval, the High Court has heard.
The Belfast Metropolitan Area Plan identifies zones for retail, residential and commercial development.
Environment Minister Mark H Durkan approved the plan in September without the agreement of the full executive.
Mrs Foster is seeking a judicial review of her executive colleague's decision.
The DUP minister claims Mr Durkan breached the ministerial code by publishing the plan without bringing it before colleagues in the executive for full approval.
Mr Durkan has previously said he would robustly defend any challenge to his decision.
Speaking in the assembly, the SDLP minister said he trusted that other ministers would be reluctant to waste public money on a protracted legal battle.
The judge agreed to put the case back to 23 January for a possible hearing on whether to grant leave to seek a judicial review.
Asked whether that could turn into a long court session, Mrs Foster's barrister said: "In my submission, it won't be a lengthy hearing. We say the issue is plainly arguable."
The Belfast Metropolitan Area Plan also covers outlying areas such as Carrickfergus, Lisburn, Newtownabbey and north Down.
It would affect almost 40% of the Northern Ireland population.