NI Water: Minister warns action may cause 'misery'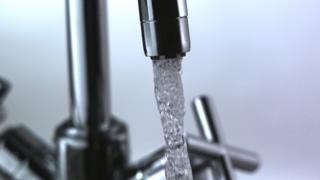 Regional Development Minister Danny Kennedy has warned that planned industrial action by NI Water staff could cause "abject misery" for households.
Earlier this week, talks failed to resolve a pensions dispute.
Members of Nipsa, Unite and the GMB voted for a work-to-rule and withdrawal of on-call services and overtime, beginning on Monday.
The minister has called on unions to reconsider their planned action.
"I want to appeal to the unions to carefully consider and reconsider the actions upon which they're about to embark on because it has the potential for abject misery to be visited on householders and on people at this time," he said.
"We have attempted to resolve it by negotiation and discussion. Our door remains open for those discussions" the minister said.
NI Water's Chief Executive, Sara Venning, also warned customers they may experience interruptions to supply over Christmas if planned industrial action goes ahead.
"In the event of unions not allowing their members to provide the normal cover in emergency situations over the Christmas period, we will have very limited in-house resources to operate and maintain our water and wastewater assets and infrastructure," she said.
Ms Venning also suggested that customers in some areas could experience intermittent water pressure problems, deterioration in water quality, and delays in response to flooding.
Following talks on Wednesday union representatives said they had "unanimously rejected minor concessions tabled by NI Water management".
'Interruption'
Nipsa Assistant Secretary Ryan McKinney said: "Northern Ireland Water have 2,700 treatment works and pumping stations, so it's inevitable that there will be a supply interruption as a consequence of there being no on-call facility, no voluntary overtime and no emergency service provided.
"From Christmas Eve, there won't be staff available during the day - that service would have been provided through voluntary overtime, but those people won't be volunteering so there will be a much slower response to any faults or supply interruption."
He added: "Staff aren't looking for more money - they're simply trying to hold on to the pension scheme that they already have.
"We have repeatedly said to the employer, rather than impose it in April 2015, let's put it off until 2016 to give unions and employers time to work out a solution."
Mr McKinney said that decision "might have to come from as far up as the Northern Ireland Executive, because it went down the route of pension changes and reform".
"If it has to come from there in order to avoid disruption for people over the Christmas period, then that's what they need to do," he said.