NI has worst emergency department waiting times in the UK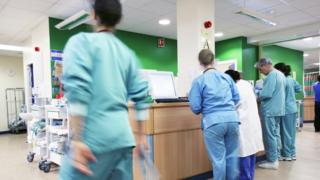 Northern Ireland is the worst-performing region in the UK for seeing patients in emergency departments within the four-hour target.
Figures produced by NHS England show the service there is under tremendous pressure across the country.
The NHS in England had its worst seven days since it started publishing weekly performance figures four years ago.
Last week 89.9% of patients who attended were seen and treated within four hours. The target is 95%.
Other statistics reveal that emergency departments across the regions are suffering. However Northern Ireland for the period under review performed worst.
In November, in Wales 83.8% of patients were seen within four hours, in Scotland that figure was 93.5% however in Northern Ireland it was 80.5%
Belfast Health Trust is the largest trust throughout the UK.
A review of Northern Ireland's health service by England's former chief medical officer is expected by the end of the year.