Bangor: Search for missing swimmer resumes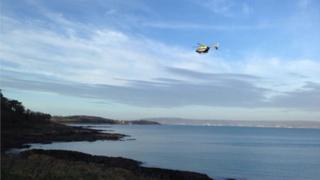 A land and sea search has resumed for a woman who was reported missing along the County Down coast.
The search began in Bangor on Monday afternoon after police received a report that clothes had been left on a pier and that a woman swam out to sea.
The Police Service of Northern Ireland (PSNI) and the Irish Coast Guard both deployed helicopters to the area.
The Royal National Lifeboat Institution (RNLI) launched two lifeboats.
A fishery protection vessel also joined the search.
The helicopters left the area on Monday evening but rescue teams continued to search the shore for several hours by torchlight, until the operation was called off for the night.