Elvis at 80: Belfast musician Harry Hamilton recalls playing for the King in the Bahamas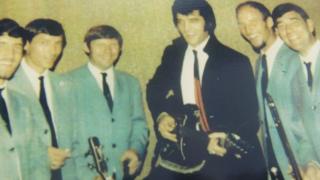 Harry Hamilton was already in paradise after swapping Belfast for the Bahamas in 1969, but when Elvis Presley walked into the foyer of his hotel he entered another realm.
Harry had mingled with the cream of the entertainment industry before as bass player with The Witnesses, supporting The Rolling Stones and sharing jokes with Sammy Davis Jr.
The showband's October residency at a hotel on Paradise Island, near Nassau, was the first stop on a tour that would also take them to Puerto Rico and New York.
However, Harry said nothing had prepared them for meeting the singer known as the King.
"At our hotel in the Bahamas we were waiting in the foyer one day and we saw this guy going up to check in, he walked past and we said 'God he's a dead ringer for Elvis isn't he?' Then the commissionaire said 'that is Elvis'.
"We followed him down to the casino and we got friendly.
"Elvis took a whole blackjack table to himself, which is seven hands and the thing was cordoned off so no other punters could join in, but I was in the circle with him.
"He had a bourbon, a cheroot cigar and a gambling chip, he played all seven hands him and the dealer.
"We had all read about him, the all-American boy who didn't smoke, drink or gamble and there he was doing all three."
Elvis was in his pomp in 1969, and July had witnessed his return to live performance in Las Vegas, following the success of his comeback TV special a year earlier.
The Northern Ireland musician encountered the pop icon on a number of occasions during the star's two-week stay on Paradise Island, finding him grounded despite his stratospheric success.
"It was a millionaire's playground in the Bahamas and nobody bothered him except a few kids who placed beads around his head," he said.
"He was a gentleman, a lovely man. He was laid back and just one of the boys, a down-to-earth bloke, we talked about jazz and whatever.
'Crab racing'
"We all had to pretend we were great fans of his, even though I preferred to listen to Ray Charles."
And Elvis had little option but to remain grounded when his plans for deep sea fishing were thwarted by the elements.
"Elvis wanted to do some deep sea fishing and in the Bahamas a hurricane arrived in the middle of his two weeks staying there," Harry said.
"For three days, Elvis could not get out the door of the hotel, we couldn't even get out to the swimming pool.
"The entertainments manager at the hotel always had gimmicks to keep people indoors and he had crab races, so that was Elvis's entertainment."
The 82-year-old, who still plays gigs in Belfast, got to know Priscilla Presley as she watched The Witnesses nine times during her stay at Paradise Island.
Her husband eventually made it to one of the group's concerts, with Harry, who was band leader for the night, providing the grand introduction to the audience.
Renowned Irish tenor Colm Wilkinson, who later received global acclaim for his role in Les Misérables, was on vocals for The Witnesses.
Harry said his only regret was that he had not invited Elvis, who was "immaculate and beautiful" in a cream suit, on stage.
"I said ladies and gentlemen we are very honoured to have with us tonight the King, Elvis, and he stood up and took a bow," he added.
"That night it was crowded, he was right there in front of the stage and I couldn't believe it, you were conscious of it all night.
"We did a comedy routine and then he loved the singing of Colm Wilkinson, he came up to the stage afterwards and congratulated Colm.
'Danny Boy'
"Elvis said I have been talking to you guys for two weeks and I thought you were limeys, I didn't know until now that you were from Ireland.
"He said the only two Irish songs he knew were Danny Boy and I Will Take You Home Again Kathleen, which made me think he was thinking if they ask me up to sing what would I do?
"I'm sorry to this day that I didn't ask him up."
Harry said The Witnesses' popularity in the hotel had led the trailblazer from Tupelo to think he would not gain entry into their concert.
Help was at hand though, from one member of the band.
"Elvis bought us a drink one night in the hotel when he was with Priscilla and said I'm coming down to see the show," he said.
"The night he did come down, we were standing in the foyer ready to go into the Trade Winds lounge and there was a queue on, and Elvis said 'do you think I will get in?'
"Our guitarist Alex Burns turned round to him and said just mention my name big lad and they will let you in."