McClay Park, Omagh gun attack: Four men arrested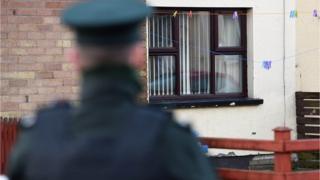 Four men have been arrested over a gun attack on a house in Omagh, County Tyrone, on New Year's night.
Seven members of a family, aged between 18 and 53, escaped injury in a gun attack at McClay Park in the town.
Police searched two properties in Omagh on Monday and arrested the four men, two of whom are aged 20 and the others 22 and 26.
They were questioned on suspicion of attempted murder, but have since been released on bail.
The four men were also questioned about a number of alleged offences in the town in November, including possession of an offensive weapon, assault and criminal damage.
They have been charged with these offences and are to appear in court on Tuesday.
Police are investigating a possible link between these incidents and the gun attack in McClay Park.