Sean Brown murder inquest: Coroner summons chief constable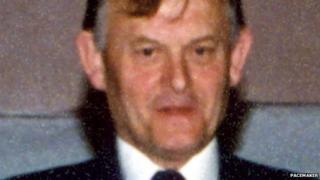 Chief Constable George Hamilton has been summoned to court to explain why a report on the murder of a GAA official has been withheld from an inquest.
Sean Brown, 61, was abducted and shot by loyalists in May 1997 in Bellaghy, County Londonderry.
A full inquest has been scheduled to begin in March.
However, the coroner was told the case could be derailed over an ongoing row over the disclosure of an unpublished Historical Enquiries Team (HET) report.
'Directive'
Senior coroner John Leckey told a preliminary hearing he was compelling the chief constable or another senior PSNI representative to attend on Friday to clarify why the report had been withheld and to explain other delays.
"They will have to make themselves available - this is not a throwaway remark from me," he said.
"This is a directive from a senior coroner and should be treated with respect."
The hearing was told that while three issues were causing the current delay, the major stumbling block was the PSNI's decision not to disclose the HET paperwork.
A barrister for the Coroners Service said: "The chief constable takes the view that the HET report cannot be provided in its present form because it has not been quality assured."
'Potential consequences'
He said it was "not unreasonable" to expect a senior officer to provide an explanation.
"I think it is important that people are faced with the potential consequences of their actions, and it is important that they are here to explain the basis for that refusal or explain delays in providing documentation," he added.
A lawyer representing the Brown family said he believed progress in the case, which has already had 20 separate hearings, was "going backwards".
Kevin Winters said his clients intended to mount a legal challenge against the police, Department of Justice and the Coroners Service over an alleged failure to adequately resource legacy investigations as a result of budget cuts by the Stormont Executive.
It also emerged that a list of classified material deemed relevant for the inquest had been lost and that redactions, including the blanking out of names, on 34 folders of non-sensitive material had not been completed by the PSNI.
Mr Winters said the family was being "re-traumatised".
"When the next-of-kin hear submissions about missing documents and lists, suspicions and fears are compounded," he said.
'Unfair'
Mr Leckey told Mr Brown's widow Bridie, who was in the public gallery, that he hoped to hold the inquest before his retirement in October.
"I have on more than one occasion said that my earnest hope, before I retire, is to hold an inquest into your husband's murder - one of the most brutal in Northern Ireland," he said.
"My hopes, I fear, are being dashed."
A lawyer for the Police Service of Northern Ireland said it was "unfair" that so much criticism was being levelled at the police.