Maud Kells: Praise for NI missionary injured in Congo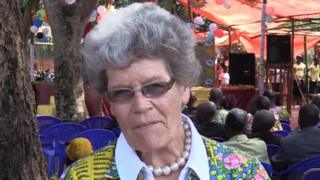 A missionary from County Tyrone who was injured after being shot in the Democratic Republic of Congo (DRC) has been praised for her commitment to working in Africa.
Maud Kells, 75, was shot twice in the shoulder by intruders at her home in Mulita earlier this week.
The nurse, who has worked in Africa since 1968, received an OBE in the New Year Honours List.
She spends half of the year in the Congo and the other half in Cookstown.
Ms Kells was originally a missionary nurse and now works for the WEC International mission agency.
David McCallister, who works for Tearfund, knows Maud well.
'Interpretation'
He told BBC Radio Ulster's Good Morning Ulster programme she is "an incredible woman".
"The latest information from the hospital last night was that Maud is up and sitting outside in the garden," he said.
David said she has even been helping out staff during her time in Yakkundi Mission Hospital.
He said: "She actually helped a young American surgeon do a little bit of interpretation as he was trying to do minor surgery on a Congolese lady.
"It's great that Maud was able to step right in there."
He described where Maud lives as a "very basic jungle mission station".
'Good people'
David is originally from Northern Ireland, but has spent most of his life as a missionary in Africa.
His parents went out to work there as missionaries in 1952 and he and his wife have been working in Africa for many years now.
"Praise god that Maud is not in a life-threatening situation right now. She's doing very well," he said.
"What happened to Maud is unfortunately indicative of what's going on all the time here. We work with a lot of people who are victims of horrible massacres.
"Where my wife and I live, there are shootings nearly every week, shootings right outside our house, but there are also a lot of good people in Congo. I want to stress that."