Bloody Sunday: Police to recommence witness interviews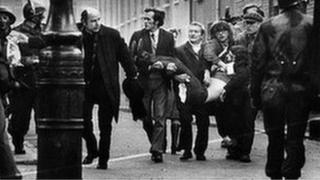 Police are due to recommence their investigations into the events of Bloody Sunday later this month.
Lawyers for the family said 12 new detectives had been assigned to the case and would begin work soon.
Thirteen people were shot dead by the British Army on 30 January 1972 at a civil rights march in Londonderry. A 14th man died later from his wounds.
Detectives want to re-interview former soldiers and civilians who gave evidence to the Saville Inquiry.
In 2010, the Saville Inquiry into Bloody Sunday was heavily critical of the Army, finding that soldiers fired the first shot without issuing a warning.
The report also found that all of those who were killed were unarmed. It said some of them were clearly fleeing or going to the assistance of others who were dying.
Detectives announced last January that officers were to begin questioning more than 1,000 witnesses.
However, police cuts meant the majority of the team that was in place were laid off in October.
Peter Madden, of Madden & Finucane, who represents the families of those killed and wounded on Bloody Sunday, lodged judicial review proceedings in response to the police decision.
"Since that time, and in advance of a court hearing, we have engaged in extensive and detailed correspondence with the PSNI, challenging the legality of its decisions and decision-making process, and as a direct consequence of issuing proceedings the PSNI has now decided to recommence the investigation," Mr Madden said.
"We cautiously welcome this development."
The new team of 12 detectives, which is being led by Det Ch Insp Ian Harrison, will begin work on 12 January.
Mr Madden said he would be meeting with Mr Harrison soon.