On the Runs hearing: Ex-NIO staff will appear before MPs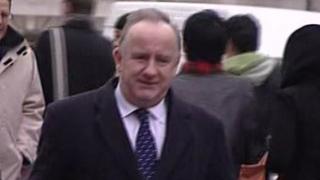 Two former Northern Ireland Office officials who failed to appear at the On The Runs inquiry are now due to give evidence next week, the chairman said.
Mark Sweeney and Simon Case had been summoned to give evidence to MPs about government letters sent to more than 200 republican paramilitary suspects.
The inquiry is now making arrangements to question the two men next week.
It is also due to question ex-prime minister Tony Blair, who has confirmed he will appear next Tuesday afternoon.
The On The Runs (OTRs) letters scheme was set up in 1999 but only came to light when one of the letters resulted in the collapse of an IRA bomb trial last year.
The trial of County Donegal man John Downey, who denied killing four soldiers in the 1982 IRA Hyde Park bombing, was halted in February 2014 when the judge ruled the existence of the letter meant there had been an abuse of process.
The chairman of the Northern Ireland Affairs Committee, Laurence Robertson, had expressed frustration in the House of Commons over the difficulty he had in getting Mr Blair to agree a date to give evidence to the inquiry in person.
He had also warned that the committee could take action if the two former Northern Ireland Office officials did not attend.
However, in a statement on Thursday, Mr Robertson said arrangements were being made for them to give evidence next week instead.
"The committee and the secretary of state have agreed that a further evidence session will take place with Theresa Villiers, Sir Jonathan Stephens, Mark Sweeney and Simon Case as witnesses.
"Former Prime Minister Tony Blair has now confirmed that he will appear before the committee, next week Tuesday the 13th January at 2pm."