BBC News NI Live: Opening up a new world of news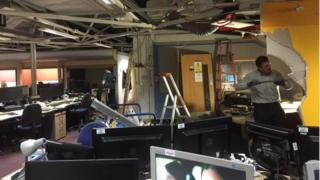 BBC News NI has been knocking down walls in its newsroom.
And we plan to bring a few more barriers down with a new live news blog.
From Monday 12 January, BBC News NI Live will offer all the latest news, sport, travel and weather in Northern Ireland in regular updates throughout the day.
We'll bring you all the best journalism from the BBC NI newsroom, and beyond, as stories break and develop.
BBC News NI Live will be available on your computer, phone or tablet every weekday from 07:00 to 19:00.
We'll also make sure you don't miss the best and latest journalism from newspapers across Northern Ireland, alerting you to their latest and exclusive content.
Archive gems
When we can, we'll share the sources of a lot of our stories with you by linking to things like police press releases, government reports and court judgments.
Your thoughts on BBC content are welcome so give us a shout by email at bbcnewsni@bbc.co.uk or social media sites like Twitter and Facebook.
Any tweets or Facebook posts that may interest or inform you will be shared on BBC News NI Live as well.
We've also broken open the vaults to release the BBC's extensive treasure trove of archive video. We'll use the gems we've found to complement stories of today and highlight some of the best broadcasting from the past 50 years.
Our aim is to maximise the value of content from across BBC radio, TV, online and the Northern Ireland press.
BBC News NI Live increases our ability to be fast and accurate with the latest stories and offer a window into BBC NI's newsroom. Join us from 07.00 on Monday.