Drumcree chicken: South Eastern Health Trust upgrades staff training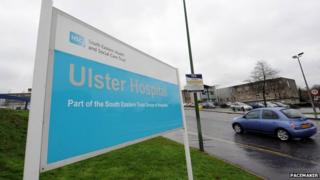 The South Eastern Health Trust has upgraded its staff equality training following a recent industrial tribunal.
The tribunal found there was a "culture of tolerance of sectarian behaviour" at the Ulster Hospital in Dundonald.
A Catholic nurse was awarded almost £10,000 last year after suffering religious discrimination, including being offered so-called 'Drumcree chicken' by a colleague.
The nurse, Shane O'Hare, began working at the Ulster Hospital four years ago.
He claimed he was subjected to adverse treatment because he was a Catholic.
He claimed there were flags and bunting in a corridor at one stage and he was offered a home-made chicken dish referred to as 'Drumcree chicken'.
In November, an industrial tribunal found that he he had been discriminated against.
The South Eastern Health Trust has since sent an email to all 10,000 staff.
Chief executive Hugh McCaughey reminded them to:
Treat their colleagues, with dignity and respect
Help maintain a neutral and harmonious environment
Avoid any behaviour that could be construed as sectarian
In addition, equality and diversity training has been upgraded and a personal letter sent to the nurse who complained about the way in which he was treated.
Although the trust accepted the outcome of the tribunal, it has denied that sectarian behaviour was tolerated.
A spokesperson said: "We have accepted the outcome but are very disappointed with the inference which the tribunal has drawn, that there is a wider tolerance of sectarianism within the trust."