Belfast City Hospital patients sent unfranked letters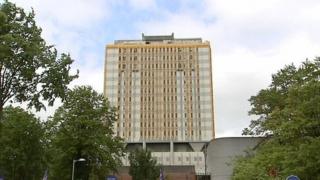 More than 100 patients from a Belfast hospital have had to collect medical news from the post office after unfranked letters were sent to them.
An external postal provider used by the City Hospital sent the letters out in error without postmarks or stamps.
The Belfast Health Trust has issued a statement apologising for the mistake.
It said it "fully accepts this should not have happened and the reason has now been identified and rectified by the provider".
According to The Irish News, the letters included included some to outpatients, review appointments and various other appointments.
It is also understood that some of the letters related to cancer treatments.
"Any patient who may have missed an appointment as a result of this delay, will be offered another date very quickly," the Belfast Trust added.