NI Water: Unions reject offer in pensions dispute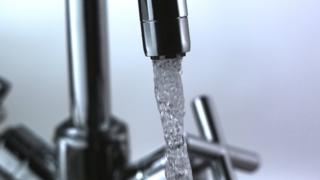 Unions representing hundreds of Northern Ireland Water staff have rejected proposals aimed at resolving a pensions dispute.
Nipsa, Unite and GMB members voted last month for a work-to-rule and withdrawal of on-call services and overtime.
Agreement was reached before Christmas to provide some emergency cover.
NI Water said the rejection was "deeply disappointing", but unions said "the goodwill shown by staff over the holiday period has evaporated".
'Intransigence'
Ryan McKinney of Nipsa said: "While there was some hope that this week's talks could have produced a temporary solution, the latest management offer is so weighted down with strings and chains that it has been rejected outright.
"Clearly our members regret that the public will now suffer disruption, but they feel forced into this position by management intransigence."
The unions said supply disruptions were likely, as NI Water maintains more than 2,700 treatment works and pumping stations.
A NI Water spokesperson said the government-owned company "would continue to do all that it can to minimise the disruption to services and remains on high alert with a major incident regime in place".
"NI Water continues to engage with trade unions and is convinced that dialogue, rather than causing disruption to our customers, remains the best means to reach an agreed settlement to this dispute," they said.
Regional Development Minister Danny Kennedy said the unions had been offered "a significant and wide ranging package".
"I am disappointed that the failure to resolve this issue gives rise to a high likelihood of disruption to water supply over the weekend, particularly as the protocol which mitigated risk to the public over Christmas is no longer in place," he said.