Former Quinn glass firm: Hundreds hear calls for local ownership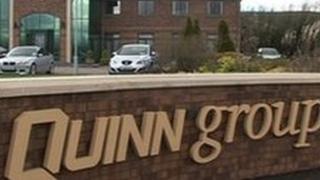 Hundreds of people have attended a meeting to call for the former Quinn Glass business in County Fermanagh to be retained in local ownership.
It is set to be sold to Spanish firm Vidrala, for more than £300m.
Quinn Glass, which was rebranded last as year as Encirc, makes bottles and jars for the food and drinks industry.
Sean Quinn lost control of the firm in 2011 when a receiver was appointed to his manufacturing businesses.
The current owners have said the deal will be a positive outcome for employees and local communities.
But a meeting on Monday night heard that local people have no confidence in those promises.
When a receiver was appointed, a consortium of banks and other lenders rebranded the manufacturing business as Aventas and have been selling parts of the group.
In a statement on Sunday, Aventas said that since the outset of the sales process, the firm had set "a very high priority" on achieving a positive outcome for employees and local communities.
They added that the preferred bidder was "uniquely well placed to deliver on this priority".
The union, Unite, has welcomed a pledge to retain the local management team at the glass plant.