Rory McIlroy defends Marshawn Lynch on Twitter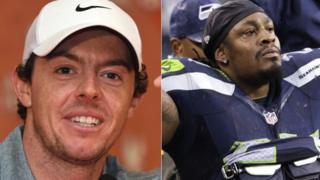 As well as being the number one golfer on the planet, it's fair to say Holywood's Rory McIlroy is also known as one of the most affable and media-friendly.
However, the County Down star has taken to Twitter to defend one of American sport's most media-shy stars, Seattle Seahawks running back Marshawn Lynch.
Lynch, known as Beast Mode for his aggressive and downright violent running style and who once sparked celebrations so intense that they registered on a seismograph in Seattle, was recently fined $100,000 (£66,000) for refusing to talk to the media after games.
As a result he decided he would respond to post-game questions in his own way.
After the penultimate game of the NFL season against Arizona he replied "yeah" to every question he was asked, while following the Seahawks' weekend playoff victory over Carolina his stock answer was "I'm thankful".
While Lynch's post-game performances have attracted criticism and controversy, McIlroy took to social media to defend him: "Love this! Paid to play not answer questions @SportsCenter: Marshaw Lynch after every question in his postgame interview, I'm thankful."
That prompted a response from followers, including journalists, one of whom asked why Lynch and McIlroy were paid millions to play sport:
McIlroy went on to defend Lynch in further tweets while also acknowledging the media's key role in professional sports: "Shouldn't put someone in an environment they aren't comfortable in. Luckily I am comfortable so it's not a problem for me."
"People are interested in our sports regardless of media coverage. Media enhances it I totally agree with you there."
"He has 50 team mates that can answer q's about the game. Media insist that they want him as it's a bigger story. Unfair."
"Sport and media go hand in hand... Both need each other to maximise potential on both sides."
Concluding the debate on the issue, the golfer from Holywood on Northern Ireland's north Down coast registered his respect for the tackle-busting running back from Oakland, California:
"I don't know ML but seems like he marches to the beat of his own drum, isn't defined by what other people think. I respect that in a person."