Human Trafficking Bill receives Royal Assent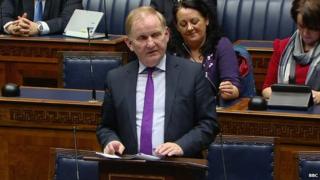 A bill that means Northern Ireland is the first part of the UK to make paying for sex a criminal offence has become effective after receiving Royal Assent.
The Northern Ireland Assembly passed the Human Trafficking and Exploitation Bill last month.
It includes a clause criminalising payment for sex.
The private member's bill was brought before the house by the Democratic Unionist Party (DUP) peer Lord Morrow.
He said the Royal Assent marked the culmination of "several years of hard work by a great number of people" who assisted him as he steered the bill through the Assembly.
"What has driven me throughout this entire process was the need to make a difference for the victims of this despicable trade," he said.
"The testimonies of victims I have met will stay with me forever and I am glad to have been able to make a positive difference in the lives of some of the most vulnerable people in our society.
"Northern Ireland has taken a lead and shown the way for other countries to follow and I believe this example will be replicated elsewhere."