Former security members investigated over destroyed evidence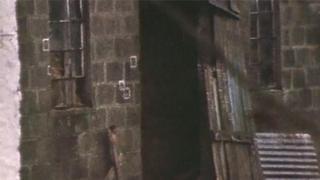 A former RUC special branch deputy head and retired MI5 officers are to be investigated over allegations they destroyed evidence in a so-called shoot to kill incident in County Armagh.
Michael Tighe, 17, was shot dead and 19 year old Martin McCauley was seriously injured when RUC officers opened fire on a hayshed in November 1982.
It emerged that MI5 had a listening device hidden inside the hayshed.
The tape was destroyed by the RUC 24 hours after the shooting.
The information did not come to light until many years later.
A copy made by MI5, which also recorded what happened, was destroyed two and a half years later.
Mr McCauley was later convicted of possession of three antique rifles found inside the hayshed.
His conviction was subsequently quashed..
'Concealment'
The Director of Public Prosecutions for Northern Ireland, Barra McGrory QC, has asked the PSNI and the Police Ombudsman to investigate the actions of the former RUC officers and security service personnel who were involved.
"The actions of police and security service personnel in relation to the concealment and destruction of potential evidence requires further investigation as does the identification of all those involved in such actions," he said.
"The Test of Prosecution will be applied in relation to any evidence uncovered through the course of the investigation."
Chief Constable George Hamilton has asked Her Majesty's Inspectorate of Constabulary to appoint an independent UK police force to investigate the allegations against former members of MI5.
In a statement, the PSNI said: "The team will work under the direction of, and will report directly to, the chief constable who will oversee the investigation and report to the director of public prosecutions."
Police Ombudsman Michael Maguire will investigate allegations of misconduct by former members of the RUC.
It is alleged that a former deputy head of special branch ordered the destruction of the RUC's copy of the tape, and concealed its existence from the director of public prosecutions at the time.
Peter Madden, Mr McCauley's solicitor, said it was a "highly significant announcement".
"Independence is an important aspect of investigations such as this, and we will be in a better position to comment on this when the investigations get under way," he said.
Martin McCauley was one of three men arrested in Colombia 14 years ago and accused of being a member of an IRA team training rebel forces in the country.
Initially cleared of the charge, he was later convicted on appeal and sentenced to 17 years in jail, but he fled to the Republic of Ireland to avoid going to prison.