Joshua Gallagher inquest: Fermanagh schoolboy death after bullying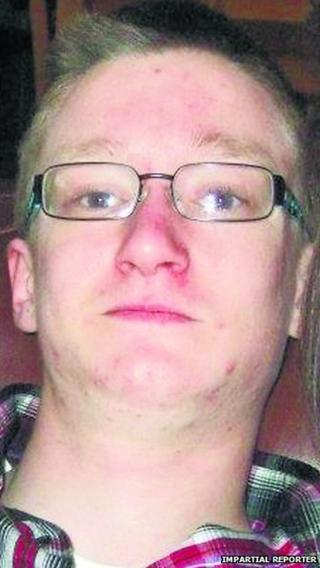 A 15-year-old County Fermanagh boy killed himself after being bullied at school, an inquest into his death has heard.
The coroner said Joshua Gallagher took his own life in October 2012 while "the balance of his mind was temporarily upset".
The teenager was a pupil at Erne Integrated College in Enniskillen.
The coroner told Joshua's mother and brother that the "horrific" death of such a lovely young man was a tragedy.
Jennifer Gallagher said while her son stood up for others who were being bullied, he would not say what was happening to himself.
She said she did not want to let her son die in vain, and intended to organise an anti-bullying campaign.
She told the inquest that Joshua had low self-esteem and confidence, and had been teased about his slight stammer.
He was referred to a mental health service in April 2012, and clinical nurse Michael Gallogly said Joshua told him that he was coping alright at school.
'Banter'
Joshua said he was not being bullied, but in response to "banter" from his peers "he would give as good as he gets", the nurse told the inquest.
Coroner James Kitson said that "banter" could also be described as "bullying".
Joshua was referred back to the mental health service in October 2012, after an incident when he had threatened to take his own life.
The nurse said that while Joshua suffered from low self-esteem, he did not have a mental illness and was not considered for medication.
Jennifer Gallagher said that on the day of his death, he was not in great humour when he returned home from school.
She described how he gave her a big hug then went upstairs and shouted, "Mum, you I know I love you". She found him dead a short time later.
The coroner said: "Regrettably he had difficulties in his young life. It is clear that Joshua perceived himself to be at the bottom of the pecking order, and what that meant in his head, his thoughts and feelings, we can only guess at."
While there were "certain issues within his peer group", he said no-one intended this outcome.
He said it appeared that Joshua's mood had been improving, but "something set him off this day".
"He appears to be a lovely young fella, and his loss in such a horrible fashion is quite simply a tragedy," the coroner said.