ICTU criticises Stormont House Agreement as 'bad deal'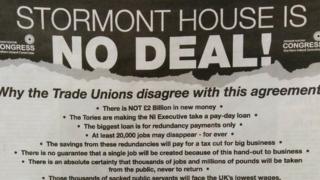 The Irish Congress of Trade Unions (ICTU) has criticised the Stormont House Agreement as a "bad deal".
The trade union umbrella group placed advertisements in Northern Ireland's three daily newspapers on Thursday.
They highlight the organisation's opposition to the deal that was agreed between Northern Ireland's five main parties before Christmas.
ICTU claims that money being offered by the government is not new money.
It said that at least 20,000 jobs could disappear under a government redundancy scheme.