Roseann Mallon inquest: Gun 'part of agent consignment'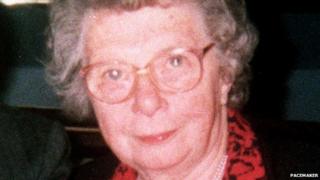 The gun used to murder a pensioner in 1994 was part of a consignment brought to Northern Ireland by a British army agent, an inquest has heard.
Roseann Mallon, 76, was killed by UVF gunmen as she watched television at her sister's house near Dungannon.
A barrister for her family said the weapon was brought to Northern Ireland by Brian Nelson, a senior UDA member also working for British intelligence.
The inquiry also heard from a former Special Branch officer.
Referred to only as Mr C and giving evidence from behind a curtain, the officer at its Weapons and Explosives Research Centre was asked whether Nelson could have supplied the Czechoslovakian assault rifle.
He replied that he did not know and would not have been interested.
Asked why he was not interested, given that he worked in a research centre, he said it was not his area of responsibility and he was focused on his own work.
The inquest also heard that the man leading the Special Branch unit where Mr C worked was a former Harland and Wolff crane driver with no formal qualifications.
However, David Bradley, who also gave evidence from behind a curtain, said: "I had four years' experience in the forensic science firearms laboratory, and by that stage (1993/4) almost 18 years' experience in microscopy."
Earlier, the court heard that Mr Bradley, who is now retired, incorrectly matched a weapon to the loyalist murders of Charles and Theresa Fox in County Tyrone in 1992.
In 2013 it was established that the rifle used to shoot Miss Mallon was also linked to eight other murders, including the Fox killings.
A barrister for the Mallon family said: "It appears that there were numerous mistakes made and that the linkages were wrong."
Mr Bradley replied: "It has transpired that way."
He cited as possible reasons for the errors a heavy workload during the 1980s and 90s, the quality of the equipment and difficulties in tracing the bullets.
High Court Judge Mr Justice Weir, who is presiding over the case, said: "Surely the purpose of your (Mr Bradley's) unit was to provide useful information to those charged with investigating the crimes.
"Nobody is suggesting you were deliberately wrong but, if your job was to provide helpful information there was not much point in providing information which was most unhelpful."
Final submissions in the inquest will be heard next month.