Man dies after tree falls on van during NI storms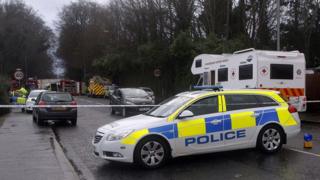 A man has died in County Antrim after a tree fell on his van, as gale force winds batter Northern Ireland.
The incident happened on Hillsborough Road, Lisburn, at about 11:30 GMT on Thursday.
Earlier, teenage two girls were blown in front of a bus in Belfast during high winds. They were taken to hospital for non-life-threatening injuries.
Elsewhere, three people including a child of three and a woman, 75, were injured when a pallet blew off a lorry.
The ambulance service said that incident happened in Connswater, east Belfast.
Many people have been experiencing power cuts, with thousands of customers without electricity earlier. The worst affected areas were in counties Down, Antrim and Armagh.
About 1,300 properties remained without power at 22:30 GMT on Thursday,
A spokesperson for NIE said: "While we are endeavouring to restore power to the majority of customers this evening, due to the high number of faults in isolated areas, there may be a small number of customers, around 150 homes across Counties Antrim and Armagh off overnight."
Northern Ireland Electricity (NIE) said its crews were working in atrocious conditions, with gusts of up to 70mph.
A number of Irish Sea ferry services were cancelled, as Met Office weather warnings for strong winds and heavy rain remained in force.
NIE crews were working to repair damage and clear trees that brought down power cables.
The company has asked people to report any visible damage but "under no circumstances approach any downed power lines or broken poles".
Fallen trees have also caused traffic disruption in parts of Northern Ireland.
Elsewhere, an agricultural event at the Maze, near Lisburn, County Antrim, was cancelled after part of a marquee collapsed in high winds. Organisers said no-one was injured.
In the Republic of Ireland, 20 planes were diverted from Dublin Airport, as strong winds continued to cause disruption to travel and power supplies.