Ulster Orchestra says it is 'hopeful' after funding deal is agreed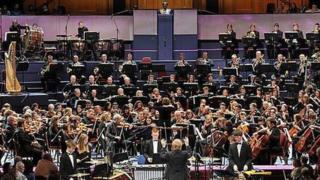 The Ulster Orchestra has said it is "very hopeful" that its immediate financial problems have been solved.
The orchestra had faced complete closure, but a deal has been agreed to secure funding and save it.
The orchestra was facing a £500,000 gap in funding.
It is understood the orchestra will receive £400,000 from Stormont as part of the redistribution of unused budgets, and £100,000 from Belfast City Council.
In return for a long-term future, however, the orchestra's musicians will have to sacrifice some of their income.
'Progress'
Thanks to the release of Stormont and council funds, the orchestra will be out of deficit.
After months of protest and negotiation, the orchestra appears confident its future is secure, at least for another year.
It is also confident of getting free rent at the Ulster Hall and the Waterfront Hall from Belfast City Council.
The BBC gives financial support of £639,000 a year to the orchestra.
Sir George Bain, the executive chairman, said there had been a "great deal of progress".
"The first group that should get a lot of credit is Belfast City Council," he said.
"They were the first movers, they agreed to give us £100,000 towards our deficit and rent-free use of the Ulster Hall and the Waterfront Hall and that really set the ball rolling."
'Secure income'
He told the BBC that a restructuring deal means musicians will not get paid for any extra work with the orchestra.
Any payments will now go into the orchestra's central budget.
He said: "I think the musicians have concluded that it is far better to have a secure income from the orchestra and perhaps less freelance income than to have no income from the orchestra."