Gay blood ban costs Department of Health £40,000 in legal costs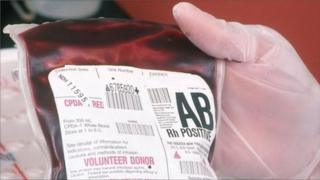 The legal costs incurred by a Stormont department in relation to a ban on the donation of blood from gay men was nearly £40,000.
The cost was detailed following a question at Stormont from the Green Party's Steven Agnew.
The health department said the policy on blood donation by "men who have had sex with men" totalled £39,100.
The ban, put in place during the 1980s AIDS threat, was lifted in England, Scotland and Wales in November 2011.
It was replaced by new rules which allow donations from gay men who had not had sexual contact with another man for more than a year.
But former Health Minister Edwin Poots maintained the prohibition in Northern Ireland on the basis of ensuring public safety.
The Department of Health said the costs were made up of £29,200 in charges for barristers, £9,400 in solicitor's costs and £500 in other charges.
Earlier this month, a court ruled that the ban was "infected by apparent bias".
A judge also backed claims from lawyers for a gay man that Mr Poots' stance was influenced by Christian beliefs.
The High Court ruling strengthens a previous finding in October 2013 that the ban was irrational.
Mr Poots, who is appealing that ruling, was replaced as Stormont's health minister last year.