Belfast International Airport runway used for hare headcount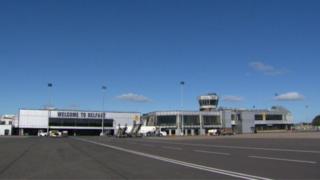 Belfast International Airport's runway is being used to conduct a headcount of Irish hares for a conservation study.
The three-week study is being led by Dr Neil Reid, a lecturer in conservation biology at Queen's University, Belfast.
The headcounts are taking place on Sunday nights, from about 23:00 GMT to the early hours of Monday.
Dr Reid tweeted that they had counted 48 hares within one 90-minute period after air traffic control "gave us the runway for the night".
'Hare heritage'
A spokeswoman for Belfast International Airport said the study would not interfere with the operation of flights or the airport in any way.
She said it was being conducted late at night when the hares were more active and when there was a lull in the flight schedule.
She added that the hares were long associated with the airport site at Aldergrove, County Antrim, and were "part of its heritage".
Dr Reid has conducted extensive research on the Irish hare.