Barry Lyttle appears in court in Sydney, Australia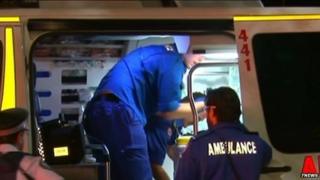 A County Antrim man accused of assaulting his brother in Australia has been allowed to move closer to the hospital where his sibling remains.
Barry Lyttle 33, from Ballycastle, was facing court in Sydney for the first time since his release on bail.
He is accused of punching and critically injuring his brother, Patrick, in the city on 3 January.
Patrick Lyttle, 31, fell and hit his head during the incident.
His brother has been charged with one count of assault causing grievous bodily harm.
Prosecutors did not oppose Mr Lyttle's application to change his bail conditions to allow him to move from his aunt's home in Blacktown in western Sydney to somewhere closer to St Vincent's Hospital.
The court was told Mr Lyttle's aunt was ill and her home was no longer a suitable place for him to stay.
Mr Lyttle is required to report to police daily, and an application to have this reduced to three times a week was denied after being opposed by prosecutors.
Prosecutors revealed they would proceed with the case on indictment in the Sydney District Court, which could lead to a more severe penalty if Mr Lyttle is convicted.
His lawyer said he was anxious to view CCTV footage of the incident.
Patrick Lyttle had been travelling around Australia for some months before his brother and father came to visit him.
He has now woken from a coma and his father, Oliver, who was in court said he was communicating.
The case will return to court in February.