Older infrastructure and equipment to blame: NI Water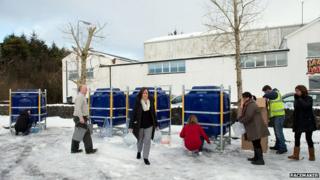 NI Water says the problems are concentrated in the west of Northern Ireland because the infrastructure and equipment there is mainly older.
Sites in the east have been more recently refurbished.
NI Water is playing down a specific 'Project Alpha factor.'
Project Alpha is a 25-year Public Private Partnership (PPP) contract to upgrade and operate four water treatment works.
These are at Dunore Point, Antrim, Castor Bay, Lurgan, Moyola, Magherafelt and Ballinrees, Coleraine.
These facilities can produce up to 50% of NI Water's bulk drinking water supplies.
The contract with the Kelda Water Group began in 2006 and runs until 2031, so if a problem develops at one of these plants it is down to Kelda staff to fix it.
They are not NI Water staff and so are not part of the industrial action