NI tourist board name to change following review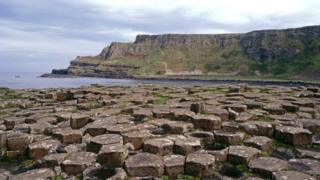 The Northern Ireland Tourist Board is be renamed following a review of the sector, enterprise minister Arlene Foster has announced.
She told MLAs it will become Tourism Northern Ireland and will soon have a new chairman and chief executive.
Re-branding was suggested in a recent review of the board, which made a total of 33 recommendations.
These included closer alignment with Invest NI and, possibly, shared offices.
Ms Foster said: "Tourism Northern Ireland will have a much greater presence at local level, developing strong relationships and increasing its knowledge of the needs of local tourism partners."
Alan Clarke left the board last year as chief executive and hotelier Howard Hastings will conclude his term as chairman in the near future.
Mr Hastings said the name change provided a "dynamic springboard" for the future.
"I am confident that as my time as NITB chairman concludes, and I prepare to hand over the reins, the prospects for tourism here have never looked better," he said.
Tourism NI will promote the region locally and across the border.
Tourism Ireland, a cross-border body established by the Good Friday Agreement, is responsible for attracting overseas visitors.