NI Water dispute: About 1,250 customers are without water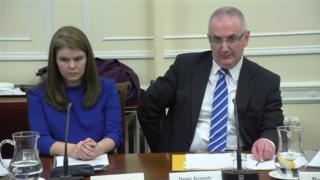 About 1,250 customers are currently without water because of the NI Water industrial dispute.
Minister Danny Kennedy and NI Water's chief executive was questioned at an emergency meeting of Stormont's regional development committee.
The pensions dispute between the company and its employees has been disrupting water supplies at thousands of properties over the last few weeks.
The areas affected are mainly counties Londonderry, Fermanagh and Tyrone.
Stormont's regional development committee, which holds the department to account, questioned the minister and senior staff at NI Water about their handling of the dispute.
The chair of the committee, Trevor Clarke, asked the minister at what stage he would consider bringing in private contractors to alleviate problems.
Mr Kennedy said: "There was a reluctance on behalf of private contractors to interfere, if you like, or to be seen to be interfering in industrial action."
He said he wanted to await the outcome of Wednesday's talks.
NI Water's chief executive, Sara Venning, was asked if her company had tried to hire private contractors from outside Northern Ireland, including Great Britain, to assist with repairs and alleviate problems.
She said those discussions were ongoing and it was a "workstream that is being actively progressed".
Committee members asked the minister and Ms Venning why there was such a reliance on overtime among staff at the company.
She said: "How utilities cover out-of-hour work is done using on-call and standby rotas. That's standard practice in Northern Ireland and in Great Britain."
Late night talks
The minister told MLAs he was "limited" in what he could say in public about ongoing talks between unions and management.
He said union representatives were due to speak to shop stewards about the latest pensions offer while he was addressing the committee.
Bringing the briefing to an end, the chairman said it was not about the blame game at the moment but contingencies between NI Water and the department have not been adequate.
Last month, Nipsa, Unite and GMB members voted for a work-to-rule and withdrawal of on-call services and overtime, and as a result out-of-hours repairs are not being carried out
Discussions between NI Water and unions went on until late on Tuesday night, but agreement could not be reached.
However, a final offer was made to unions and is being put to staff on Wednesday.
In its latest statement, NI Water said there had been "an improvement in the water supply situation overnight" and confirmed that all water treatment works are now back in service.
However it warned: "It may take time for the system to fully recharge and customer supplies to be restored to normal. Airlocks may also cause some difficulties in the system; this will impact on restoration times in a small number of cases."
On Tuesday, more than 1,000 school children spent the day at home and about 7,500 properties were cut off.
NI Water has a postcode search on its website for customers to check for the latest information on supply disruption in their areas.