St Mary's principal to meet minister over funding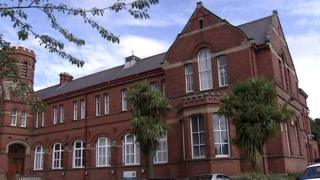 The principal of St Mary's Catholic teacher training college is to meet a Stormont minister to try to have its funding package improved.
The college is in danger of closing because a special payment is being withdrawn, it has been claimed.
Learning Minister Stephen Farry is removing the small and specialist institution premium funding for both St Mary's and Stranmillis College.
Dr Farry told the assembly this did not mean the colleges had to close.
College principal Peter Finn said a cut in its budget would be far too challenging.
He is due to meet Mr Farry next Wednesday to argue that his college should keep its autonomy, although he says he is keen to have very "deep sharing" with other teacher training institutions.
Sinn Féin is to hold a "Save St Mary's" rally on Thursday.
'Body blow'
In the assembly, Sinn Féin assembly member Máirtín Ó Muilleoir asked Dr Farry: "I wonder whether he accepts that the removal of the premium will lead to the closure of St Mary's University College.
---
Analysis by BBC NI News Education Correspondent Maggie Taggart.
St Mary's University College and its supporters are protesting about the scale of cuts which, because of its small size, would impact very heavily on its finances.
The Employment and Learning minister, Dr Stephen Farry, has decided to remove a special premium payment of £1.1m which it has been getting to compensate for its small scale and specialist status.
It has fewer than 1,000 students and an income of £4.7m a year.
---
"Does he accept that if St Mary's closes, it will be the biggest body blow in a generation to the area of highest unemployment in Belfast?"
Dr Farry said: "I recognise that the impact would be significant for St Mary's and that this is a serious issue for the college, although I would not assume that it means the closure of St Mary's.
"This is happening in the context where we already know that the teacher infrastructure in Northern Ireland is very fragmented.
"It is much more costly than comparative systems elsewhere in the world."
The Alliance Party assembly member said two reviews of the future of teacher training in Northern Ireland had concluded that "the status quo is not an option".
It is not yet known how much the payments are worth.