NI water dispute: Industrial action suspended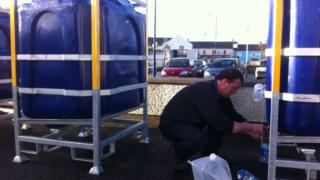 The industrial dispute at NI Water has been suspended with immediate effect.
Unions are recommending the latest offer to their members but no details of the deal have been revealed.
Ryan McKinney of Nipsa said the "deal on offer had improved". He said workers would be on the ground from today to restore supplies to customers.
The pensions dispute between the company and its employees has been disrupting water supplies at thousands of properties over the last few weeks.
More than 1,000 workers represented by Nipsa, Unite and GMB have been taking work-to-rule action since 22 December.
The areas affected were mainly counties Londonderry, Fermanagh and Tyrone.
At the height of the dispute, about 9,000 properties were without water.
NI Water has said about 50 properties currently remain without a water supply.
The Water Group of Trade Unions said it was "satisfied that sufficient progress has been made to allow us to consult with our members on the offer put to us".
It added: "The immediate focus of our members today is to work to support NI Water in restoring services to customers across Northern Ireland, particularly in the west."
It said no further details of the deal would be made public.
NI Water has welcomed the suspension of industrial action.
Chief Executive Sara Venning said: "This is welcome news and my continued focus is now on working with our staff to restore services to all our customers."
Regional Development Minister Danny Kennedy has also welcomed the news.
"This is positive news for the public, especially those in the west who have experienced significant disruption to their water supply," he said.
"The unions will now have to ballot their members."
Politicians have also welcomed the development.
Sinn Féin MP for Fermanagh South Tyrone Michelle Gildernew said the news would "come as a relief" to those who were affected.
West Tyrone SDLP assembly member Joe Byrne said: "It appears that the water crisis is coming to a close. I am very glad of this news and hope that those still affected with have water soon."
Trevor Clarke, DUP, tweeted: "Welcome the news that the industrial action has been suspended. Let's hope people without supplies are provided water as soon as possible."