Keith Gillespie denies breaching restraining order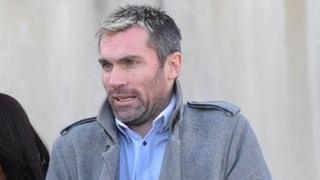 Former Manchester United and Northern Ireland footballer Keith Gillespie has denied breaching a restraining order, less than two weeks after it began.
Gillespie, of Ballycrochan Avenue, Bangor, County Down, is charged with breaching a restraining order barring him from contacting his ex-partner.
The breach is alleged to have occurred on 24 June 2014 on High Street in Bangor.
The 39-year-old was released on continuing bail.
The judge at Newtownards Magistrates' Court listed the case for 4 February at which stage he will set a date for the trial.
Asked whether he wanted to elect to have his case tried before a jury in the Crown Court, Gillespie chose to keep it in the petty sessions.
The restraining order had been put in place on 11 June 2014, and Gillespie was also sentenced to 100 hours of community service, after he admitted breaching a non-molestation order multiple times.
At the time, the judge imposed a two-year restraining order, which banned Gillespie from contacting the victim or encouraging anyone to contact her on his behalf.
He was also prohibited from going within 200 metres of her home and from setting up any account on any social media website in her name.