Gearoid McKiernan GAA sectarianism ban 'not enough'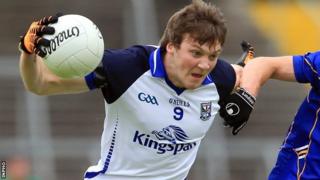 The GAA has been criticised over the length of a ban given to a player for making sectarian comments.
On Sunday, Cavan's Gearoid McKiernan was given a red card for sectarian comments, heard by the referee, to a Protestant Monaghan player, Drew Wylie.
The GAA has since given McKiernan a two-match ban.
Aaron Cunningham, who suffered racist abuse in the Ulster Club Championship Final in 2012, said the punishment did not fit the crime.
"I don't think two games is really going to teach anybody a lesson," he said
"I raised the issue a number of years ago publicly and behind closed doors and they promised me that they would take it a lot more seriously and clamp down on it. But their actions, both in my case and in this case, doesn't really seem to fit.
"I thought that this would have been a great opportunity for the GAA as a stand-alone organisation, an amateur organisation, to show the world of sport that they take it very, very seriously.
"For this to happen and then to see the punishment, it doesn't really fit the crime."
Wylie's foul on Martin Reilly ignited the row that ended with the Monaghan defender and teammate Paul Finlay being dismissed along with Cavan's McKiernan.
Former Monaghan manager Seamus McEnaney, who was at the match on Sunday, said while the length of the ban might seem lenient, it was all that could be given within the GAA's rules.
"To be fair to the Ulster Council they've to deal with the situation within the rules of the GAA and within those rules the maximum penalty that they could give him was two games," he said.