BBC News NI Live archive material provides glimpse of past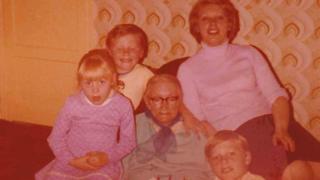 Archive material can ignite the imagination and the digitisation of thousands of broadcasting clips by the BBC has opened up new windows of opportunity for viewers and listeners.
BBC News NI Live has been serving up some tasty cuts of video since its launch earlier this month, including a review of the meals on wheels service in Lisburn, County Antrim, more than 40 years ago.
Elizabeth Hanna was delighted to see the clip of her grandmother Mary McWilliams with reporter Malcolm McCallister.
She said it had brought back fond memories of her relative, who she visited regularly.
"It was my cousin who told me about it, it was a lovely surprise, but also very emotional," she said.
"I still miss her after 31 years.
"In the clip she looked a lot fresher, she was 74 at the time, she died 10 years later and by that time her sight had dimmed, she was a diabetic.
"I also have a photo of her from the Ulster Star newspaper of her eating her meals on wheels in the 1970s."
Vaults
Ronan Breathnach-Cashell, who is a media manager with BBC Northern Ireland, says the BBC News NI Live service provides a new way for the public to access material that otherwise might be hidden.
"In our first week, we featured an old programme from 1957 about Rathlin Island, illustrating life on the island, the only person who owned a car on the island was the local nurse," he said.
"The island was isolated recently because of the weather and it was timely.
"We had a piece on snow scenes from 1968 to 1976 from Scene Around Six that was popular.
"We also use clips for particular news stories that are relevant to give them context, for example we had footage of Tony Blair from the House of Commons in 2005, when he was appearing at the Westminster committee investigating the On the Runs scheme .
"We now have the opportunity to get the archive out there, because a lot of it could be sitting in the vaults doing nothing.
"It's great to have a vehicle to put it out there, it is more cost effective than documentaries and easily digestible."
Of course online video is not the only way to promote the BBC's vast collection of recorded material and a new show on Radio Ulster is tapping into the public's passion for the past.
The Archives which is presented by John Bennett, is a five-part series looking back at some of the highlights from the station over the past 40 years.
It includes interviews with presenters like David Dunseith and Gloria Hunniford, as well as other memorable moments.
The programme is broadcast each Sunday at 12:30 GMT and repeated on Thursday at 19:30 GMT, with this week's episode recognising the impact of phone-in shows such as Talkback.